Sales
·
Dallas
·
Hybrid Remote
Regional Sales Manager - Dallas Inside Sales
Currently seeking a strong Regional Sales Manager to join our team in Dallas!
We usually respond within a week
At Fleet Complete, our vision is to connect everyone with everything – everywhere. We are a leading global provider of IoT solutions in the connected commercial vehicle space and mobile workforce management.
Our company has been on an exciting journey, starting back in 2000 when our CEO, Tony Lourakis, founded Complete Innovations. Today, we are a global organization with 800 staff and growing! Our journey continues as we evolve and transform to support the challenges and needs of our customers.
This is a great time to be in an IOT organization and help define the future in this space. The McKinsey Center for Future Mobility predicts that by 2030, telematics will be a $750 billion industry worldwide. "After decades as a niche feature, telematics is merging into the automotive mainstream," McKinsey reports. We have a big appetite for growth and a passion for innovation. Our products help improve safety standards, dispatching, fleet tracking, regulatory compliance and mobile staff management. Learn more about us.
Overall Mandate:
The Regional Sales Manager (RSM) will act as a subject matter expert on the company's software solution and will be responsible for facilitating sales demos and training for channel sales partners. The successful candidate will have software expertise from the end user perspective and will have the ability to use this information for enticing clients to exploit the software solution to their maximum potential. The Regional Sales Manager (RSM) will be expected to propagate advanced software features and sell their benefits, with the goal of enhancing the stickiness of clients' application usage, ensuring the long-term success of the organization. The RSM will report to the Director, Sales United States AT and T.
What We Are Looking For
An ability to effectively demonstrate the Fleet Complete application
Measured success and a proven track record in Software Sales
Solid understanding of application development technologies using Client/Server, Web-enabled and distributed applications
Proven ability to effectively identify and resolve issues
Strong analytical and problem-solving skills
Strong ability to build, influence and motivate channel sales partners
Extensive knowledge and understanding of computer-based Applications, IT operations and SaaS
Must have a strong work ethic and dedication
Your role will encompass the following
Conduct online and in person sales demonstrations to prospective customers
Provide AT&T sales channel partner training to increase the knowledge level of sales representatives
Demonstrate an ability to connect with customers both technically & non-technically regarding their specific requirements
Present a strong comfort level in all customer-facing situations
Become the point of contact for new and existing clients, become a partner to their business and provide consultative selling and advice
Assist with client support, as well as customer issue resolution when necessary
Support of (AT&T) local carrier on sales opportunities within a specified region
Outline Fleet Complete to the potential customer by effectively addressing and positioning the customer's requirements
Develop productive business relationships with key personnel at the local carrier level within a specified region
Hold regular meetings with local carrier sales staff
Communicate regularly with internals teams, including Operations, Product Development and Sales and Marketing for seamless customer onboarding and support
Increase the sales revenue potential and YoY projections within your territory through selling and channel sales engagement
Continue to increase your knowledge base and expertise in IOT, M2M, Telematics and SaaS offerings
We would love you to have the following
Wireless and GPS experience is an asset
Software sales/training experience is an asset
Telematics industry knowledge is preferred
Subject matter expert on Fleet Complete and AVL industry
Excellent command of verbal and written skills
Bachelor's degree in Business, Management Information Systems, Computer Science or related field preferred
Must be located in: Dallas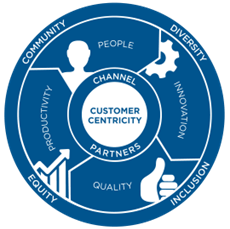 Fleet Complete is a respectful, caring, and inclusive workplace. We are committed to championing accessibility, diversity, inclusion, and equal opportunity. Requests for accommodation can be made at any stage of the recruitment process providing the applicant has met the bona-fide requirements for the open position. Applicants to make their requirements known when contacted.
Department

Sales

Role

Channel Sales Manager

Locations

Dallas

Remote status

Hybrid Remote

Employment type

Full-time
Diversity, Equity & Inclusion
Fleet Complete is a respectful, caring, and inclusive workplace. We are committed to championing accessibility, diversity, inclusion and equal opportunity.
Working with us, you'll find that our day-to-day is all about collaboration, flexibility, transparency, synergy, and support for our colleagues when in need – both emotionally and professionally.
Most importantly, we love what we do, and we want our work to matter at the end of the day.
Sales
·
Dallas
·
Hybrid Remote
Regional Sales Manager - Dallas Inside Sales
Currently seeking a strong Regional Sales Manager to join our team in Dallas!
Loading application form