Sales
·
Toronto Headquarters
·
Hybrid Remote
Sales Development Representative
Currently seeking a strong Sales Development Representative to join our team!
We usually respond within a week
 At Fleet Complete, our vision is to connect everyone with everything – everywhere. We are a leading global provider of IoT solutions in the connected commercial vehicle space and mobile workforce management.
Our company has been on an exciting journey, starting back in 2000 when our CEO, Tony Lourakis, founded Complete Innovations. Today, we are a global organization with 800 staff and growing! Our journey continues as we evolve and transform to support the challenges and needs of our customers.
This is a great time to be in an IOT organization and help define the future in this space. The McKinsey Center for Future Mobility predicts that by 2030, telematics will be a $750 billion industry worldwide. "After decades as a niche feature, telematics is merging into the automotive mainstream," McKinsey reports. We have a big appetite for growth and a passion for innovation. Our products help improve safety standards, dispatching, fleet tracking, regulatory compliance and mobile staff management. Learn more about us.
Overall Role Mandate:
We are engaged in acquiring new fleet customers and are expanding our Direct Sales Business Development Team to deliver our message to our target audience. Your mission, should you choose to accept it, is to increase Fleet Complete's customer base through inbound and outbound lead management, prospect qualification, and procurement through an effective demonstration of our product while continuously working through your pipeline of opportunities.
Reporting to the Director, Business Development this is an exciting opportunity to help build our brand and drive North American adoption of our solution. You will have the opportunity to build your sales career in a fast paced, motivated, team environment where you'll gain experience and have exposure to all levels of the organization.
What We Are Looking For:
Up to 2+ years of experience in a Sales, Hospitality or Customer Service
Comfortable working fast, high-paced environment
Previous B2B Telesales experience - outbound experience is an asset
Be driven, self-motivated and hungry for success
Provide a proven track record of meeting and exceeding sales targets
Possess a strong desire and ambition to help generate revenue for the business
Exhibit a strong phone presence with superior communication and presentation         skills
Strong relationship building skills
Maintain a flexible attitude and demonstrated ability, as well as a willingness to         go above and beyond the job description to achieve success
Ability to multi-task, prioritize, and manage time effectively
Be a team player
Your role will encompass the following:
Represent Fleet Complete in a positive and professional manner
Continually increase your product and industry knowledge through self-           education and working with our Customer Success team and other departments
Source new sales opportunities through outbound cold calls and emails
Work through inbound leads generated by Marketing activities
Quickly understand prospects' requirements, offering appropriate Fleet Complete solutions to meet their needs and timelines
Move opportunities through the sales cycle to become a paying customer through proper pipeline management
Meet and exceed sales targets set by the Director of Sales
Follow-up with product literature, videos, and other campaign materials
Create, maintain, and update Salesforce records with complete opportunity information, prospect communication and next step details
Prepare and maintain accurate funnel reports for Business Managers
Provide weekly updates and reports on a one to one meeting with the Director
Any other tasks assigned to you by the Director
Our investment in you:
Great earnings potential (fixed wage paid semi-monthly + uncapped commission paid monthly)
Full Training provided
Hybrid Office Model
You'll have the ability to speak to a varied range of people and decision makers at different levels of the business
Acquire robust experience in outbound lead generation/telesales
The opportunity to work for a market leading global business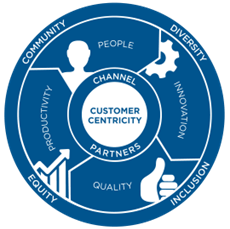 Fleet Complete is a respectful, caring, and inclusive workplace. We are committed to championing accessibility, diversity, inclusion, and equal opportunity. Requests for accommodation can be made at any stage of the recruitment process providing the applicant has met the bona-fide requirements for the open position. Applicants to make their requirements known when contacted.
Department

Sales

Locations

Toronto Headquarters

Remote status

Hybrid Remote

Employment type

Full-time
Diversity, Equity & Inclusion
Fleet Complete is a respectful, caring, and inclusive workplace. We are committed to championing accessibility, diversity, inclusion and equal opportunity.
Working with us, you'll find that our day-to-day is all about collaboration, flexibility, transparency, synergy, and support for our colleagues when in need – both emotionally and professionally.
Most importantly, we love what we do, and we want our work to matter at the end of the day.
Sales
·
Toronto Headquarters
·
Hybrid Remote
Sales Development Representative
Currently seeking a strong Sales Development Representative to join our team!
Loading application form